Web EDI
swift connection of your business partners. Easy-to-use web portal Support of JIT and JIS processes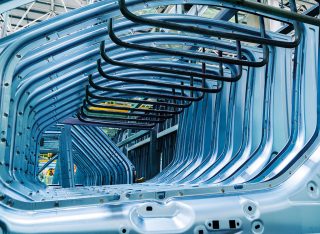 Web EDI is the ideal solution for the connection of Automotive suppliers to large manufacturers like ŠKODA AUTO a.s. or TPCA (Toyota Peugeot Citroën Automobile). Without the need to implement complex IT infrastructures, the supplier can be EDI-ready in an instant. The client will have a complete status overview of all sent and received EDI messages at all times.
Easy-to-use
This solution ensures the import and export of EDI messages. Therefore allowing for the automated integration of internal ERP systems into the Web EDI solution. This reduces manual labor and saves time. Even more, received call-offs and forecasts can be easily turned over to ASNs (Advance Shipping Notice).
A single connection for all
Our Web EDI solution can be customized to the specific needs of your company. As an integral part of its EDI infrastructure, it allows for the full EDI integration of all business partners into the manufacturing process.
Swift onboarding
EDITEL's Partner Management service has been designed to support manufacturers and ensure the fast and seamless connection of suppliers on any level. This service covers the management of all technical and administrative issues regarding the connection of the supplier.
Standards & protocols
Our Web EDI solution supports all major automotive standards, ranging from ODETTE to VDA and EDIFACT, and is customized to the manufacturer's supply chain processes. EDITEL professionals will ensure the fast and seamless connection of all involved partners.
Highest security standards
Even more, the solution includes different security mechanisms, such as passwords for administrative functions, password policies based on your company's security policies and role-based security to provide different levels of access to different users within the organization.
benefits FOR THE SUPPLIER
Cost-effective easy-to-use web interface
Receive call-offs and forecasts and easily turn them over to ASNs (Advance Shipping Notice)
Creation of standardized pallet labels / kanbans
Import / export of documents from / to Web EDI
Quick overview on message status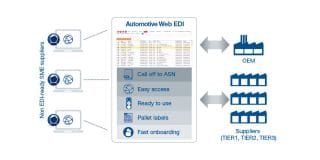 Swift EDI connection to manufacturers like Škoda Auto, TPCA and others.
BEnEFITS FOR THE OEM
Seamless support of JIT and JIS processes
Fast onboarding of all suppliers/business partners
Onboarding support by EDITEL Partner Management
Supports standard and selfbilling invoicing process WANT TO LEARN MORE? Please contact us